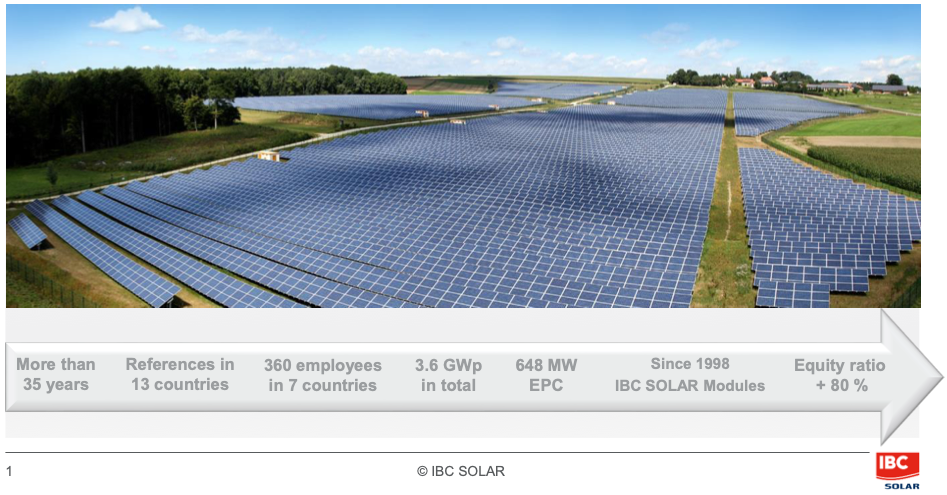 PT. Asia Civil Indonesia has formed a strategic partnership with IBC Solar Energy Pte, Ltd. for the development and the engineering, procurement & construction of solar PV farms in Indonesia.
IBC Solar Energy Pte, Ltd. (IBC) is the International Project Development Division of the IBC SOLAR Group, which has been consistently developing and implementing PV power plants worldwide since 1982, ranging from large ground mounted PV plants to smaller rooftop systems, both grid-connected and off-grid projects. IBC SOLAR Group has a proven track record of 3,300 MWp of installed power, more than 520 MWp of which are large scale solar parks.
IBC provides a "One Stop Shop" to provide Solar Energy solutions in Indonesia through providing project development, design and engineering, planning, procurement, construction, commissioning, operation and maintenance, financing, and everything else related to the project to ensure the complete satisfaction of its customers' expectations.
IBC's focus in Indonesia will be solar parks and roof top solar solutions for commercial and industrial facilities.
Under the strategic partnership, Asia Civil Indonesia provides local support for:
• securing permits, licenses, authorisations and finance
• liaison with clients and Government of Indonesia
• local procurement
• construction
• installation, testing & commissioning
• maintenance