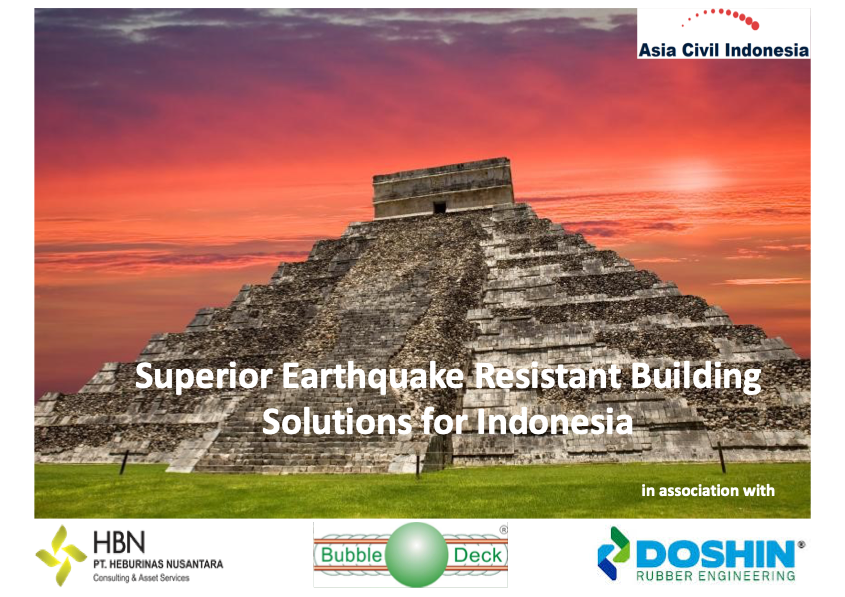 PT. Asia Civil Indonesia - PT Legacy Nusantara Trading has formed a strategic partnership with Doshin Rubber Engineering Sdn Bhd (Doshin) to promote, sell and install its range of Products throughout Indonesia.
Doshin is a specialist in the design and production of engineered rubber products in Malaysia, with over 30 years of experience in providing rubber solutions for the civil engineering & construction industries. It combines state-of-the-art technology, experienced professional and innovative products to provide innovative cost-effective solutions to clients' most difficult challenges.
Asia Civil Indonesia's subsidiary – PT. BubbleDeck Solusi Indonesia, has combined BubbleDeck floor technology with Doshin's Base Isolation system technology (using High Damping Rubber Bearings) to provide superior performing Earthquake Resistant Building solutions, having high local content and within the budget of a conventional building solution.
Our affordable, local and superior performing Earthquake Resistant Building solutions will enable Indonesian's, investors and developers to invest in disaster risk reduction for resilience to:
provide increased confidence to all building users and occupants